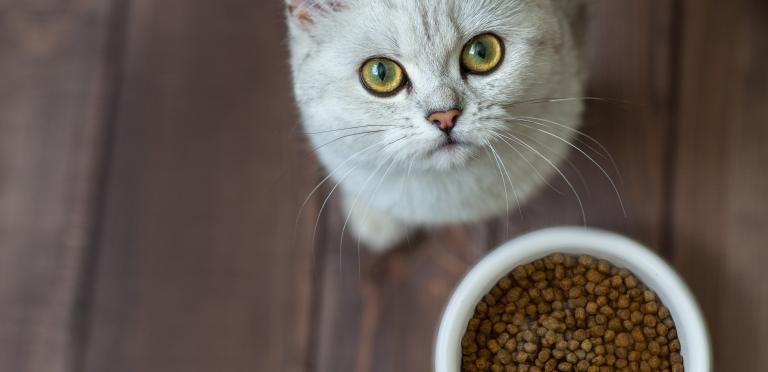 Survey shows: Feeding a cat is an art form that many cat owners struggle with
Bulletin | 1.4.2019
Prima Pet Premium conducted Finland's largest consumer survey of cat food and found features in cat feeding that are hardly present in dog feeding, for example. Feeding a cat involves significantly more routines, tricks and emotions. Feeding a cat is a skill that a cat owner struggles with on a daily basis. 
"It is difficult for cat owners to identify what is good quality food for a cat. A cat cannot endure fasting for more than a day or two without consequences, which is why feeding is often guided by what the cat is willing to eat. Many cat owners find themselves in a situation where their cat is offered several different options depending on what the cat likes or what it will accept on its plate," describes Kaisa Mäkinen, Selection Manager at Prima Pet Premium.
The nutritional value of cat food has become secondary despite the interest of the cat owner.
The nutritional value of cat food has become secondary despite the interest of the cat owner. The main issue has become to get the cat to eat at all. However, the quality of the food in particular is important for the cat's well-being. Cats are carnivores, and a large part of their diet should consist of protein, and in particular protein of animal origin. Cats can utilise plant protein very poorly and an excessive intake of carbohydrates makes cats gain weight.
"We know that it is not impossible to teach a cat to eat healthy food. It requires good nerves and different means. But it is not impossible," says Noora Sunell, Brand Coordinator at Prima Pet Premium Oy.
CONSUMER SURVEY REDEFINED CAT FOODS
Based on the consumer survey, Prima Pet Premium developed the recipes for its cat food in collaboration with leading European pet food companies. The products coming to grocery stores now are aimed especially at the needs of Finnish cats. The products are completely grain-free or at least corn-free and wheat-free. Taurine, which is vital for cats, is also found in the new complete nutrition products. 
"It is interesting that cats have regional taste preferences. In Finland, cats especially like meat, while in Australia, for example, fish is a better treat for cats' taste buds. The product selection we have developed includes dry and wet food that is especially suitable for Finnish cats," Mäkinen continues.
FOOD TESTED BY CATS
Prima Pet Premium's new cat food products have been tested directly with end customers, i.e. cats. The products were repeatedly tasted by more than 50 cats to verify the recurring tastiness of the food. The products also have a 100% satisfaction guarantee, meaning the purchased product will be refunded to the customer against a receipt if the cat does not like the food.
"We worked with e.g. cat cafes, where our novelties were tasted. In addition, we conducted an online survey for cat owners, in which cat owners evaluated the composition of new products and the usability of the packaging. And of course the most important thing – the taste: does the cat eat the product and will it eat it a second time," Mäkinen describes. 
"Cats are genuinely important to us and we want to ensure that every cat has the opportunity to eat high-quality food. That is why our new products can still be found in grocery stores, making them available to everyone. The price-quality ratio is good. In addition, we donate one percent of PrimaCat's proceeds to charity. We have already donated funds e.g. to the Pirkanmaa Animal Welfare Association," Sunell rejoices.