Did you know that by buying PrimaCat you are doing good? In addition to our quality products, we support the welfare of cats by working with animal welfare associations and providing valuable information to cat owners.
At PrimaCat, we want to support the welfare of cats and other animals. Our mission is to give every cat owner the opportunity to provide their beloved cat with quality food that matches the cat's natural diet, easily and at a reasonable price. Every cat has the right to eat good food.
Support for animal welfare work
We know that unfortunately not all cats have a home. Helping these cats is a priority for us. By buying a PrimaCat, you support animal welfare work, as we donate at least 1% of the proceeds from each product to charity. Find out more about the charity work we do across Europe below! You can also follow our charity work on the PrimaCat social media channels.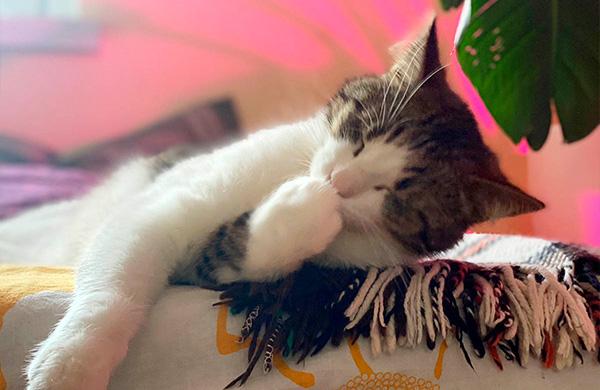 WE HELP CATS WITH A FAIR PAW
Our roots are in Finland, and for years we have been working with several Finnish animal welfare organisations and supporting animal welfare with donations. We help homeless cats by continuously supporting the Pirkanmaa Animal Welfare Association PESU ry and by donating products to cat cafés and cat associations.
In 2021, we donated more than 10,000 kilos of cat food and litter. This year our donations were received by, among others, the animal welfare centre and shelter Onnentassu and the Riihimäki reception centre for people fleeing the war in Ukraine, where pets are also welcome. We also collected 2100 kg of cat litter for PESU ry. The Facebook-based campaign in Finland aims to find responsible homes for homeless cats and to promote temporary shelter activities. In 2021, 202 homeless cats found a home. For every cat that has found a home, we donate a PrimaCat product package.
CHARITY WORK ACROSS EUROPE
PrimaCat products are sold widely in Europe, so our charity work is not limited to Finland. In Sweden, for example, we donate both PrimaCat cat food and cat litter to various charities. We have supported organisations such as Katthjälpen kronoberg and Fisksätra Katthem, which help homeless cats locally. In the longer term, we work with VOOV. The association organises temporary emergency shelters for animals in situations where the owner is unable to care for their pet.
Since the start of the war in Ukraine in February 2022, we have been delivering cat food and litter both to the Polish border and to clients of shelters. The cost of food and supplies for pets is not covered by reception services or income support, so the full cost of the assistance is passed on to the clients.