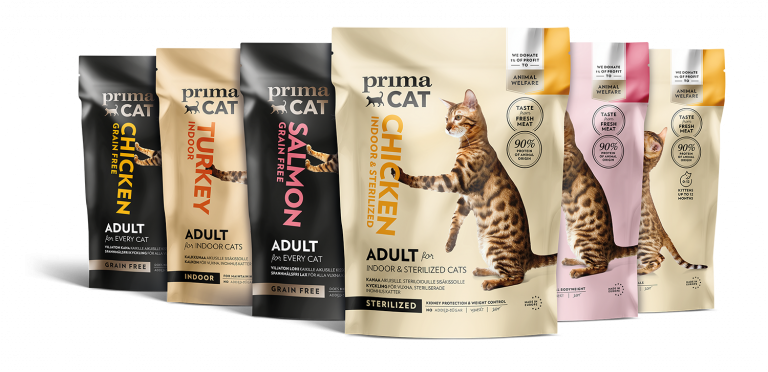 PrimaCat dry foods and Classic series wet foods are made in the Czech Republic from European ingredients. Fillets-pouches are made from top-quality chicken and tuna fillets in a Thai factory that also produces products for human consumption. Naturally, our suppliers only use responsible, dolphin-friendly fishing methods.
For us at PrimaCat, the quality of cat food is very important, which is why we only accept the highest quality raw materials for our products and use only certified and inspected partner factories that meet our strict quality standards. Our company has a self-monitoring system as well as product and quality specifications for every product to be manufactured. We also monitor the consistent quality of our products and possible deviations through laboratory testing. The Finnish Food Safety Authority monitors animal feeds and animal feed producers.
For more information on the countries of origin and manufacture of the products, please contact our customer service.
All of our food products have a 100% satisfaction guarantee, as we are satisfied only if you are satisfied. If the product you purchased did not meet your expectations or your cat did not like it, please contact our customer service so that we can compensate you for the inconvenience. At the same time, we receive valuable feedback on our products so that we can continuously develop them.